14 Cute Cinch Sack Tutorials
Now that we have learned a few new ways to sew a cinch sack, convert it from a wristlet to a backpack, how about a 14 cute cinch sack tutorial round up!
There is a bunch of styles and ideas here. There is one that even has a square bottom….and don't get me started on the ruffles!
I am thinking that you could totally make these into your own style –even as the person it's for and find out what they have in mind and what they want.
Cinch sacks are so functional and super quick. I love that about them. And, lately they have been everywhere!
You can seriously make it as complicated or as simple as you like.
Add pockets, hidden zippers, lined, thick straps…whatever you want or what you need the cinch sack for.
14 Cute Cinch Sack Tutorials~
5 minute sack by Every Day Morgan
Simple Bags by Little Birdie Secrets
Wristlet bag by Patchwork Posse
Drawstring Bag by Infarrantly Creative
Picnic Pack by Patchwork Posse
Drawstring Backpack by Sewing Novice
Wristlet One String with Bottom from Yarn Monster
Drawstring Bag by Kitty Baby Love
Lined Drawstring Bag by the Creative Place
Easy as a Cinch by Make it and Love it
Overnighter Back Pack by Patchwork Posse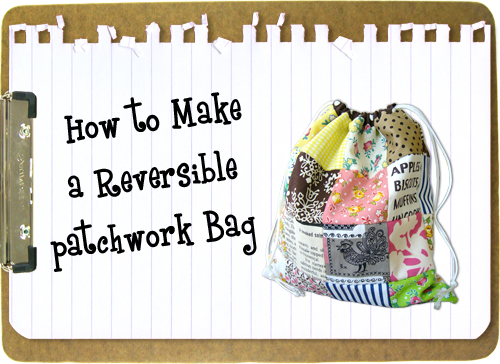 Reversible Patchwork Bag by Pink Penguin
15 minute Fat Quarter Cinch Sack by The Mother Huddle
Which one is your favorite?
All the details you need to know about Quilting & how to get started!
Quilting doesn't have to be hard or complicated and overwhelming. It can be fun and a great way to relieve stress! Start with our 13 quilting basics for beginners and end with a fun sewing project. With a variety of projects, tutorials with the hints and tips, videos and more - you'll find something new every time you visit.
Click here to get the details!