When it comes to quilting, there is one style that really allows you to have some fun.
This is the optical illusion quilts. They can be sewn into squares, wall hangings, circles, large quilts, art quilts in all kinds of colors and patterns.
The idea with the optical illusion is to have some fun with different sizes and widths of fabric, strips, squares or different colors. They truly finish to a beautiful quilt. You get to play with the illusion of depth, visual interest, dark-light-dark strips,
I want to say this style is for the confident beginner but there are some beginner-friendly patterns too – with all the combination of shapes, strip sets, fabric pieces, convex illusions, there are lots of ideas.
​For the best result, I suggest using a design wall. So everything can be places in the right order, you can pay close attention to the pattern and make sure everything is in the right place.
If you are up for an additional challenge and fun – you can explore the process of designing your own optical illusion quilt.
Using graph paper and a simple pencil, you can lay out your designs and then translate that over to fabric. Using fat quarters, dark fabric, white fabric or a mix of scraps – no matter what, the design and contrast with the colors make the illusion happen. Decide what size each square represents – 2″ or 5″ and then you'll be able to get your cut list as well from this design.
Another option would be to explore using EQ8 for designing. If you haven't tried that program, it's great for designing quilt – optical illusion quilts, star quilts, or scrappy quilts.
Check each tutorial and pattern for the cut units and fabric requirements. Each will have it's own.
Free Optical Illusion Quilt Patterns
Optical Illusion quilt – Christa Quilts Free Tutorial here.
Optical Illusion quilt blocks
Playing with Color Transparency
Op-Art mini quilt
Curvy quilts from straight sets of strips
Sliced courthouse steps quilt block
Circle Optical Illusion Quilt
Dimension Wall art – pdf downloadable pattern here by Art Gallery Fabrics
Dancing Ribbons Tutorial
3D Pop Star Quilt Pattern pdf download
3D squares Wall Quilt Pattern
Twisted Ribbon Quilt Pattern
Zig Zag Quilt Pattern download pdf
AQS Bento Box Illusion Quilt pattern
Bumbleberries quilt pattern – download pdf file
Flip this house download pdf file here
Gelato Glimmer download pdf file here
Apple Pie Paisley pdf download here
Goodfellow quilt, 58 x 74″, free pattern by Weeks Ringle & Bill Kerr at Modern Quilt Studio (CLICK for PDF download)
Gridlock quilt, 60" square, free pattern by Leah Duncan for Art Gallery Fabrics (CLICK for PDF download)
Handcraft quilt, 70 x 80", free pattern at Art Gallery Fabrics (CLICK for PDF download)
Ketan table topper, 21" square, by Elaine Theriault for Banyan Batiks – Northcott Fabrics (CLICK for PDF download)
Mixtape quilt, 84" square, free pattern by Libs Elliott for Andover Fabrics (CLICK for PDF download)
Morse Code quilt, 57 x 69", free pattern by Natalie Crabtree for Windham Fabrics (CLICK for PDF download)
Optical Illusion quilt, 40 x 52", free pattern by Lisa Swenson Ruble for Windham Fabrics (CLICK for PDF download)
Optics quilt, 64 x 80", free pattern at Robert Kaufman Fabrics (CLICK for PDF download)
Showcase quilt, 67 x 82″, free pattern by Wendy Sheppard for Windham Fabrics (CLICK for PDF download)
Pokedex quilt, 45 x 54", free pattern at Robert Kaufman Fabrics (CLICK for PDF download)
Punxsuwtaney's Nine Patch quilt, 38″ square, free pattern by Betsey Langford for American Quilters Society (CLICK for PDF download)
Shadow Box quilt, 61 x 85″, free pattern by Donna Jordan at Jordan Fabrics (CLICK for PDF download)
Positive Vibes – Shimmer quilt, 66 x 80", free pattern by Elaine Theriault for Northcott Fabrics (CLICK for PDF download)
Spinning Pyramids quilt, 32" square, free pattern at Robert Kaufman Fabrics (CLICK for PDF download)
Tranquility quilt, 64 x 80″, free pattern by Blend Fabrics(CLICK for PDF download)
Simple Twist quilt, 56 x 64″, free pattern by Janice Ryan for Robert Kaufman Fabrics (CLICK for PDF download)
Tumbled quilt, ~62 x 72″, free pattern by Nancy Mahoney for Timeless Treasures (CLICK for PDF download)
Aperture quilt, 60 x 72", free pattern by Ariga Mahmoudlou for Robert Kaufman Fabrics (CLICK for PDF download)
Aperture quilt – Kona cottons, 60 x 72″, free pattern by Ariga Mahmoudlou for Robert Kaufman Fabrics (CLICK for PDF download)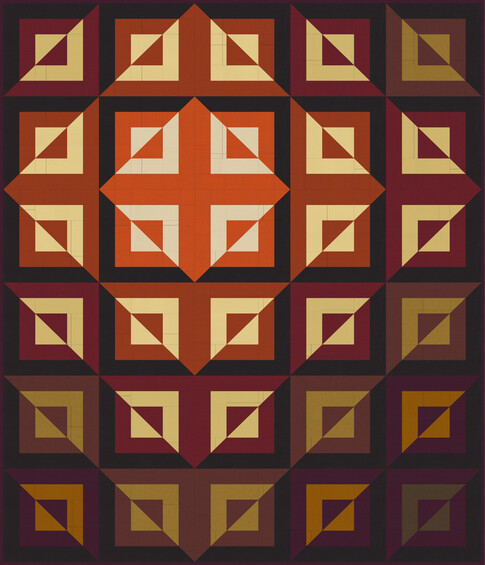 Alexandrite quilt, 54″ square, free pattern by Stephanie Sheridan for Anthology Fabrics (CLICK for PDF download)
Explore More Quilt Patterns: