Amanda and I know each other in the online world- I think we have crossed paths a couple of times in person. We both sewed projects from Thermoweb (I believe she still does!) and that's where I we met initially.
She shows off some crazy quilting skills along with some pops of applique fun. She isn't stuck in just quilts though, as you can see- she designs pillows, bags and other fun sewing projects.
Along with her patterns, her cat is the next best thing 🙂 You'll find all about both on her site as well as many free patterns and tutorials.
You are going to love the project she is sharing with us this month!
Here's a bit more about Amanda:
I am a Southern California girl who loves anything creative. I am the mom to 3 darling children and wife to one darling hubby! I have a passion for all things creative, chocolate, and cats!! I have been sewing since I was 8. When I was 12 I began sewing my own shorts. I have been quilting for 16 years and have the fabric stash to prove it. You can usually find me in one of three places: the fabric store, the thrift store, or the home improvement store. I love sharing my ideas and giving my projects as gifts.
About the project for the quilt group:
I am a summer person and I am always so sad when summer is over – it's heart breaking!!! I hate when its not summer! I thought I would make a little Halloween project to encourage me to have a positive outlook on the upcoming fall! It did the trick! I love sewing for fall! The mini quilt is made with the featured block and then a few borders. You can sew it in an afternoon!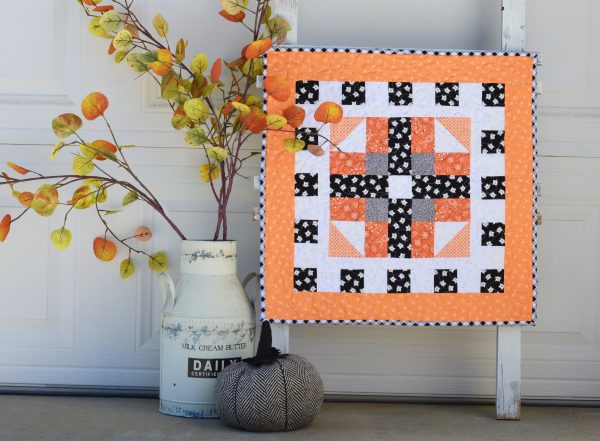 Country Fall Mini Quilt
Finished size: 23″ square
Materials:
Fabric, sewing machine, rotary cutter, thread, iron – all the basics!

The Night Sky Mystery Quilt Block
The block is 12″ finished and it has half square triangles, squares, and rectangles. I was inspired by the black and white cat print from Riley Blake – I guess everything I sew has cats!! It is also easy to change the colors to fit your taste!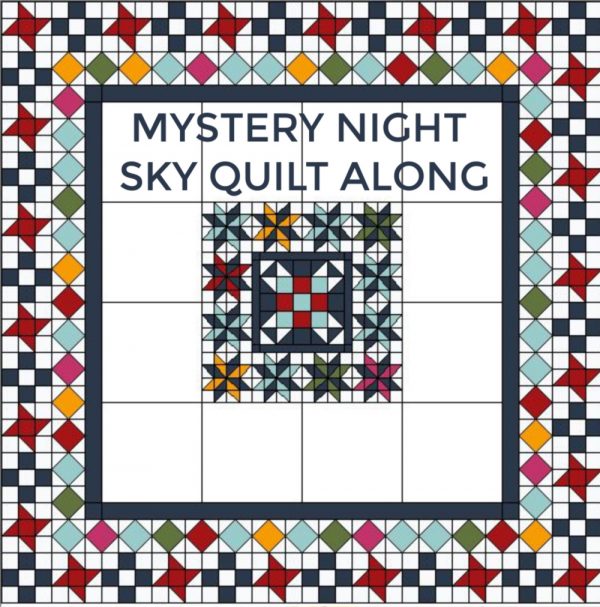 ~ Enjoy her interview ~
How did you get your start in sewing?
I learned to sew as a little girl. My mom sewed all our clothes. She would also sew fun things like animals and doll dresses. I started sewing on my home in junior high – I would make my own shorts!
What inspires you?
Art, color, fabric, my cat
Do you have a favorite notion?
I am pretty old school with the notions 🙂 I made a zipper pouch for my clover binding clips. I keep my needles, a little pair of scissors, a leather finger and thread and it's my binding on the go bag!
What's coming up for you that we can check out~
I am releasing my very first fabric line with Riley Blake Designs! I am super excited! The line is called Scaredy Cat and it's Halloween inspired! I will be at quilt market in October!!
Quirky or fun fact about yourself?
I talk to my cat all day long and he always responds.
Where can you find her?
Join the International Association of Quilters an online quilt group that fits your schedule & location. Exclusive patterns. Community of quilters. Designers you'll love. Join here!