Beach Bags and Totes
What is the handiest thing around when you are heading to the beach? How about your beach bags and totes!
That's right- It's about that time of year when we are all getting ready to head out to the beach or pool or wherev er your favorite spot is and we definitly need something to haul everything around.
Don't you find that it's a little bit like going on an over nighter?
I usually find myself packing way too much stuff….and never really need it all.  Do you do that? Coming up with the perfect beach bag and tote though is pretty tricky.
Depending on really what your activity and style is- the totes could be totally different. We are heading off to a few camping spots this year that are near water, and guess what I am taking– that's right my newest beach bag.
11 Beach Tote Bag Tutorials
Beach bag by Sew Chatty– uses a towel!
 Beach Tote by The Sewing Loft
Summer Time Beach Tote by Crazy Little Projects
 Mesh Beach Bag by Obsessive crafting disorder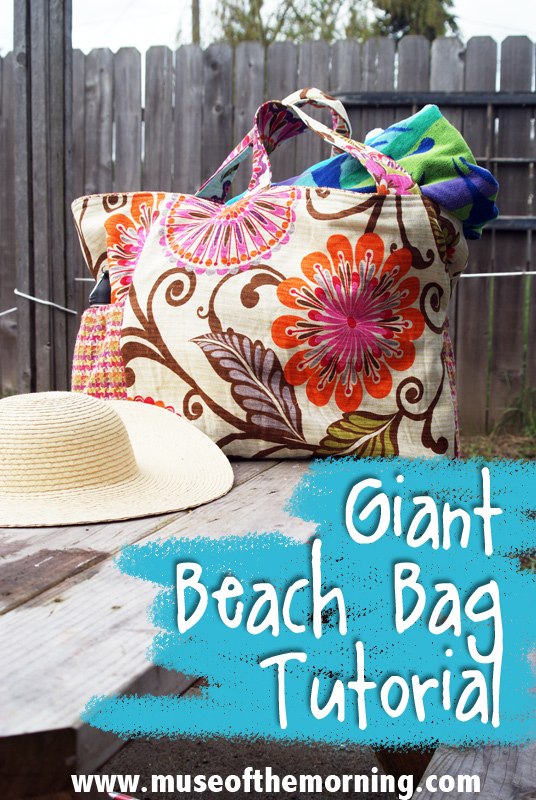 Giant Beach Bag Tutorial by Muse of the Morning
Charm Pack Beach Bag by My Patchwork
Towel Beach Bag by Sweet Charli
Pocket Beach tote by Fish Sticks Design
There is a pretty good variety up there to choose from- canvas, mesh …most of them large enough for a few towels or two.  I am thinking we are ready to head out in style! A great way to keep it cheap and quick- use vintage fabric that you have picked up while thrifting.  Especially for the lining.  You want to use fabric that can be wash, or at least wiped down after a few uses.  If you are anything like me your suntan lotion will leak all over, so being able to wash is really a must.  The tutorials are easy patterns for beginners too- nothing too difficult that you can't tackle.
I also find that the sand will beat up anything- so use fabric that can handle the wear and tear of heaving chemicals or gritty sand.
Summer bags to sew and haul your stuff in
Summer project for kids to make